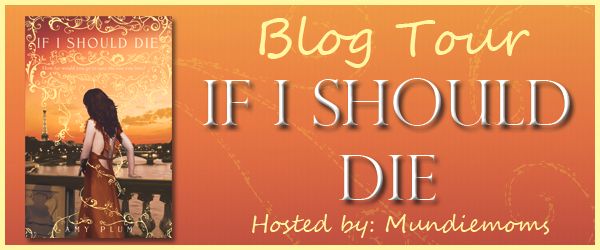 Welcome to the IF I SHOULD DIE blog tour! This is the third book in Amy Plum's Revenant series. The two week tour will be featuring a variety of posts, including author interviews, character guest posts and interviews, guest posts, excerpts and a giveaway!
The Tour

:
April
I will not lose another person I love. I will not let history repeat itself.
Vincent waited lifetimes to find me, but in an instant our future together was shattered. He was betrayed by someone we both called a friend, and I lost him. Now our enemy is determined to rule over France's immortals, and willing to wage a war to get what they want.
It shouldn't be possible, none of it should be, but this is my reality. I know Vincent is somewhere out there, I know he's not completely gone, and I will do anything to save him.After what we've already fought to achieve, a life without Vincent is unimaginable. He once swore to avoid dying—to go against his nature and forsake sacrificing himself for others—so that we could be together.
How can I not risk everything to bring my love back to me?
Purchase the Book
Published by: Harper Teen
To Be Released on: May 7th, 2013
About the Author
Amy Plum is author of the International Bestsellers DIE FOR ME (an Indie Next List pick, Romance Times top pick, and recipient of a starred review from School Library Journal), UNTIL I DIE, and digital novella DIE FOR HER. The final book in the series, IF I SHOULD DIE, will be released in May 2013.
After being raised in Birmingham, Alabama, in a rather restrictive environment, AMY PLUM escaped to Chicago to an even more restrictive environment at a university that expelled people for dancing. (And where she was called to the dean's office for "wearing too much black".) After all of that restrictiveness, she was forced to run far far away, specifically to Paris, France, where she only wore black and danced all she wanted.
After five years in Paris, she ventured to London, where she got an M.A. in Medieval Art History, specializing in Early Sienese Painting (1260-1348) mainly because it promised almost no hope of finding a paying job afterward.
Amy managed to find work in the world of art and antiques in New York. But after almost a decade of high-pressure lifestyle in the Big Apple, she swapped her American city for a French village of 1300 inhabitants.
After signing with HarperCollins for the DIE FOR ME series, Amy left her job as an English professor at Tours University to write full-time. She now lives in Paris with her two kids and big red dog Ella.
The Giveaway
Thank you to Amy, this tour's giveaway prize pack includes all 3 books in her series, bookmarks for each book, some Paris treats and a few other little surprises. To enter, please fill out the form below
a Rafflecopter giveaway
*All entering parties are responsible to read the giveaway rules/guidelines before entering